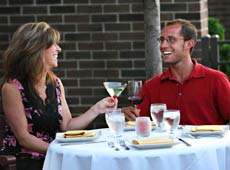 Here at Louis' we are proud to carry on a family restaurant tradition 50 years in the making. Stop by for Happy Hour and enjoy one of our original signature drinks. Enjoy our famous Black Angus steaks as you dine with friends and family, or feast on our new exclusive feature: Piedmontese Beef. (The same delicious taste you expect from traditional beef, but with less fat and cholesterol than even skinless chicken.) Now that's guilt-free pleasure that leaves room for dessert!
And while our award-winning food will keep you coming back, it's our service and hospitality that will make your dining experience memorable. So what are you waiting for? Come join us for hospitality you would expect at home, and the best food you could expect from anyone.
Call (586) 949-9566 to reserve your dining experience.